Give Your STIHL a Strong Start
It's time to awaken your STIHL equipment from its winter slumber. Before you pull your tools out of storage and put them to work, make sure you've prepared them for your spring workload. This checklist of proper maintenance tips will help get your equipment out of hibernation and ready to run.
NOTE: For a comprehensive list of maintenance and repair instructions, refer to your product's instruction manual.
Check the condition of your spark plugs and replace if necessary.

Check air filters for dirt and damage to determine if any need cleaning or replacement. Clean debris from blowers and trimmers as well.

Inspect your equipment for broken parts, and replace any that are broken or damaged.

Check screws and nuts, and retighten them if necessary.

Now is a good time to sharpen or change saw chains, as well as replace trimmer line.

Lubricate parts where friction will occur.

Check power cords on electric tools for damage or wear.

When mixing fuel, use fresh fuel (stored for less than 2 months) and new 2-cycle engine oil. View Mixing Tips.

Use STIHL MotoMix® Patented Premixed Fuel in your fuel tanks. STIHL MotoMix® is a highly stable blend that will


help to ensure great performance.

Don't put your power tool to work immediately—after a season of storage, let it warm up for a few minutes before use.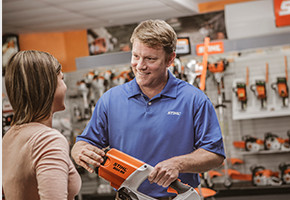 We Can Help
Not sure if your STIHL equipment requires additional parts and service? Just drop by our Dealership for some helpful advice. While you're here, pick up replacement parts and anything else you need for your spring maintenance, such as the proper oils and lubricants for your equipment. Don't have time to do all this maintenance on your own? No problem – we also service what we sell. Our first-class service is one of the many perks of owning a STIHL.
---
STIHL Battery Maintenance
While battery-powered equipment does not require much of the same maintenance as gasoline engines, there are still a few things to keep in mind. Here are a few tips on the storage and maintenance of your STIHL batteries, such as the AP 300 battery and AR 900 backpack battery.


NOTE: For a comprehensive list of maintenance and repair instructions, refer to your product's instruction manual.

Battery Storage:
When your battery is not in use, put it in a safe place and secure it against unauthorized use. Store the battery out of the reach of children. Store indoors in a dry and safe location. Protect it from dirt and damage.

Do NOT place battery on or near fires, stoves or in other high-temperature locations. Do not place battery in direct sunlight when not in use or store it inside a vehicle in hot weather. Doing so may cause the battery to generate heat, rupture or ignite. Using batteries in this manner may also result in a loss of performance and a shortened life.

PRO TIP: To ensure maximum battery life, store with a charge of about 30%. Also, do not store spare batteries – use all your STIHL batteries in rotation.
Battery Maintenance:
Use and store the battery only within a temperature range from 14 ºF (-10 ºC) and no more than 122 ºF (+50 ºC).

If LED display on the battery flash red and a rapid succession of short beeps sound for several seconds, the battery is not functioning properly – disconnect the battery from the power tool, check its condition and contact your STIHL servicing Dealer immediately.

Before use, inspect the electrical contacts for damage at regular intervals. If any damage is found, contact your STIHL servicing Dealer. Do not continue using or charging a malfunctioning, damaged, cracked or deformed battery, cable or adapter.

Always clean dust and dirt off the battery. Do not use any grease solvents for this purpose. Clean plastic surfaces with a cloth. Do not use aggressive detergents. They may damage the plastic. Do not spray the battery with water. Do not use a pressure washer to clean your battery. The solid jet of water may damage parts of the battery and cause malfunctions.
---

Electric Maintenance Tips
STIHL electric tools require little maintenance in the spring and fall. However, there are a few things that owners can do, as outlined in your instruction manual, to keep the unit in peak operating condition.

Before starting the machine, thoroughly clean it. Store machine in a dry, high or locked location, out of the reach of children and other unauthorized persons. Prior to use, visually inspect the machine, including control handle and cooling inlets. Ensure they are clean and undamaged.

STIHL electric tools are precisely engineered and require a servicing STIHL Dealer to properly conduct maintenance and repairs. These tools are double insulated to protect the operator and the equipment's internal components. Servicing a double insulated appliance requires extreme care and knowledge of the system, and should be done only by qualified service personnel. Replacement parts for a double-insulated power tool must be identical to the parts they replace.